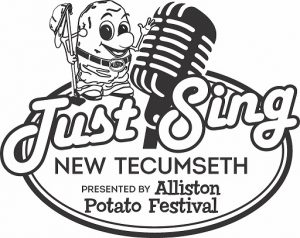 Do you know a child who loves to sing?
The Alliston Potato Festival is excited to welcome back the Just Sing competition this year and auditions have started! The contest is open for all youth ages 4-13 in South Simcoe who love to sing, want to meet new friends and gain some experience performing on stage. Last year was our first year for the event and we had wonderfully talented local youth participate. It was a blast and such a close competition, but in the end it was Emilia Lopez from Beeton who took home the grand prize! We can't wait to see what the shining stars of the South Simcoe area bring us this year!
For just $10, Contestants can enter the contest by submitting a video of themselves singing their audition song to justsingalliston@gmail.com between Monday, June 12, 2023 and Thursday, June 29, 2023, 11:59pm. Those selected (20 contestants) will attend the Just Sing LIVE auditions. These performances will be open to the public and held for 4 weeks at the Gibson Centre on Monday, July 10, 17, 24, and 31 from 6-7:30pm. The Finale will take place Saturday, August 12 from 11am – 1:00 pm on the Alliston Potato Festival Main stage at the Beer Gardens where the winners will be awarded. Prizes will be given for different categories, as well as a grand prize for the overall performer! 

This is a free family-friendly, inclusive, and really fun event to watch, so come on out with your families this summer and support your local youth and their incredible talents! 
If you would like to learn more or to be a contestant, Click the forms below for details and instructions.
THANK YOU TO OUR EVENT SPONSORS!