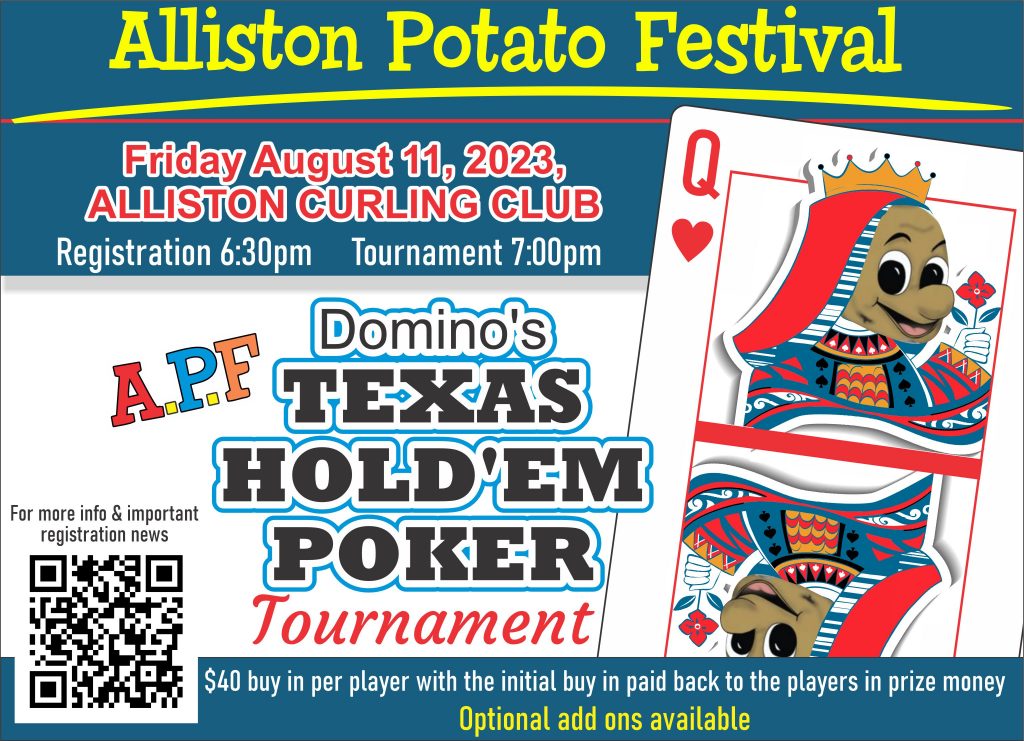 It is time to put your card-playing skills to test at the Domino's Texas Hold 'em Tournament at the 2023 Alliston Potato Festival.
The Alliston Potato Festival is once again hosting the Domino's Texas Hold'em tournament on Friday, August 11 to kick off the 2023 Festival.

This year the venue for Domino's Texas Hold' 'em Tournament will be at The Alliston Curling Club. The Doors will open at 6:00 pm and we will start registration at 6:30pm. The tournament starts at 7:00pm. The Alliston Curling Club is also opening its lounge to the players this year.
The buy-in is $40 per player with the initial buy-in paid back to the players in prize money. The $40 gives each player 2000 tournament chips. Optional re-buys are available for the first 3 levels at $20 for 2000 tournament chips to any player who loses their chips in the first three rounds. Two optional add-ons are also available for $30 for 200 chips or $440 for 5000 chips.
Please bring cash as there will be no debit machine available.
We will have refreshments available for purchase. The curling club will be opening its bar and offering beverages for sale. At the break, we will be serving Domino's Pizza.
Friday August 11 make sure you order a pizza from Domino's for the family for dinner and then send them out to watch the parade and then you come join us at the Alliston Curling Club for the Domino's Texas Hold'em Tournament on Friday night. See you there!